AmazonFresh…Grocery Domination Ahead?
February 06, 2013 / Retail/Shopper Insights, Technology/Social Media, Trends, Foodservice/Restaurant
Amazon has worked its name into the everyday lexicon of consumer households—and retail competitor boardrooms. Amazon holds down the second spot (behind Subway) in brand perception, according to YouGov BrandIndex's 2012 rankings, which measures consumer brand awareness and word-of-mouth buzz. As the preeminent online retailer and e-commerce innovator, Amazon is the 15th-largest retailer in the U.S., according to the National Retail Federation, going toe-to-toe in the physical retailing world with the likes of Walmart, Kroger, Target, Walgreens, Costco, and Safeway. That these other retailers also sell groceries is not lost on Amazon.
Across the retail landscape, many companies are toying with an assortment of business strategies in search of the next big thing in retailing that will resonate with consumers (notably the aging and growing incomes of Millennials) to retain their place at or near the top. At the end of the day, after all, these publicly traded companies have to answer to the shareholder. Jeff Bezos, Amazon.com's founder, is on record as stating that success is determined by how much shareholder value is created over the long haul. So, this may explain, in part, Amazon.com's virtual and brick and mortar retail hybrid experiment, AmazonFresh. For in order to live up to its founder's aspiration to be the dominate retailer in the world, Amazon.com would need to find a way to garner a huge piece of the grocery sales pie—which resides largely in the physical world.
Whether AmazonFresh can or will succeed remains fodder for media pundits and market analysts to debate. From our perspective, we question whether AmazonFresh isn't more akin to Tesco's foray into the American marketplace with its Fresh & Easy Neighborhood Market small-format stores. That is, while "fresh" is relevant to contemporary consumers, both retailers face significant challenges in convincing consumers that they can deliver on the fresh proposition. In the case of AmazonFresh, consumers simply don't equate "online" with "fresh." And, as findings from our new report, The Online Grocery Shopper, highlight, this isn't the only challenge facing companies competing in the e-commerce grocery space.
Today's Online Grocery Shopper
We live in a world where the divisions between online and offline are increasingly blurred. Online grocery shopping represents a natural evolution in how consumers are living their lives simultaneously in both the physical and digital world. A confluence of cultural conditions—busy, urban lifestyles, site awareness, and mobile-technology integration, along with situational triggers (often unexpected changes in life circumstances)—propels the trial of online grocery shopping.
Emanating from its founder, Jeff Bezos, Amazon is fixated on the customer experience. This focus was crystallized in a 2008 interview with Charlie Rose, in which Mr. Bezos described his preoccupation by saying this (paraphrased here) about consumers: "They care about having the lowest prices, having vast selection, and getting the product fast…and the reason I'm so obsessed with these drivers of the customer experience is that I believe that the success we have had over the past 12 years has been driven exclusively by that customer experience. We are not great advertisers. So we start with customers, figure out what they want, and figure out how to get it to them."
This may have worked well thus far for durable goods like CDs, books, shoes, electronics, and so forth, but the customer experience for selling groceries online, especially perishable goods, poses a different set of challenges. These challenges were highlighted in a January 26, 2013 article in the Seattle Times, "AmazonFresh set to expand?" In the article, Tamara Barnett, The Hartman Group's director of strategic insights, said, "The way we buy and eat food is very cultural and habitual. It's going to take a little while to break those habits and get people thinking about buying groceries online."
While consumers don't equate online with "fresh," the challenges don't end here. Many marketers think that online shoppers are different from offline shoppers when, in fact, they are the same people.
As Brad Kalil, The Hartman Group senior quantitative analyst, project lead and co-author of The Online Grocery Shopper report, points out, "There are a number of myths about online grocery shopping and shoppers that our research shatters. For one, conventional wisdom says that an online grocery shopper will visit the physical grocery store less often. We found the opposite to be true. Online shopping does not significantly cannibalize the number of visits to the physical store." (Figure 1)
Figure 1. The Grocery Shopping Trip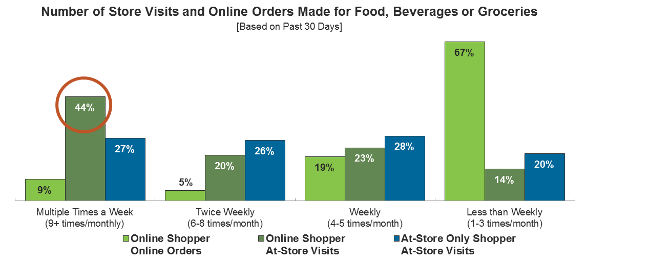 Since starting online grocery shopping, half of the Online Shoppers (56%) have not changed the number of physical trips they make to a store, while a third (32%) make fewer trips and the remainder (13%) make more trips.
Source: The Online Grocery Shopper 2013 report, The Hartman Group, Inc.
Some believe that difficulty in getting to a store is a primary motivation for online grocery shopping. Again, our research debunks this belief. Results in The Online Grocery Shopper find that two-thirds of online grocery shoppers live within walking distance to a grocery store. To further confound traditional food marketers, Online Shoppers visit physical stores more frequently than At-Store Only Shoppers. Online grocery, food, or beverage shopping does not significantly reduce the number of trips to a store, and, for some (1 out of 10), can actually lead to an increase in store visits.
On average, At-Store Only Shoppers shop for groceries 8 times a month with a quarter of them visiting stores multiple times during a week. Online Shoppers, on the other hand, visit stores 14 times a month (4 times a month online and 10 times a month at a store).
Since starting online grocery shopping, half of the Online Shoppers (56%) have not changed the number of physical trips they make to a store, while a third (32%) make fewer trips, and the remainder (13%) make more trips.
Picture of Tomorrow for Online Grocery Shopping
Future growth of the online grocery channel will be driven by two key factors: 1) breaking well-entrenched habits associated with in-store shopping (both emotional and physical) and 2) being ready to help customers find and navigate the online grocery channel when situational triggers arise.
The current online grocery market is relatively small and, in the near-term, will stay small. Surprisingly, current online grocery shoppers still prefer the in-store experience for all their grocery purchases, even for those items they are currently purchasing online. Until barriers to consumers' habits are overcome, such as the spontaneous, occasion-based nature of grocery shopping and the tactile interaction with fresh foods, the online grocery market will remain relatively small.
Food retail is now an identified and influential trip driver for many retail channels and has become a point of competition in formats formerly only dabbling in the segment (e.g., drug stores and dollar stores) and those expanding their offerings (e.g., convenience stores increasing fresh offerings). Yet, not all retailers can deliver on the cues to quality that food shoppers seek today, namely those linking to freshness. Freshness remains a new frontier in emerging food channels, whether digitally-driven or brick and mortar. Whether or not Amazon will continue to experiment with Fresh is open to conjecture—yet, one thing seems sure: Amazon will almost certainly continue to compete in the area of shipping shelf-stable foods and beverages from its main website as it seeks to gain greater share of wallet in pursuit of global retail domination.